Texas Bankers Association
Training More than 20,000 Bankers Annually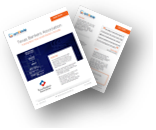 Application: OPTiMA Services
Industry: Association
Impact: 492 Member Organizations, 5,279 Branches, 7,500 Bankers Throughout Texas (20,000 nationwide)
Overview
The Texas Bankers Association (TBA) approached omNovia to help them improve their virtual training business. They needed a comprehensive virtual training partner to serve the various needs of their audience.
With 492 member banks and approximately 5,279 branches, TBA trains more than 7,500 bankers annually throughout Texas (over 20,000 nationwide).
TBA also partners with a coalition of 35 other state bankers associations nationwide who deliver this training to their members. This requires a customized registration and reporting system for each participating state.
Challenge
As a lean organization, TBA's most critical requirement was to find a partner who could design and implement a comprehensive solution that would manage the registration, reporting and event production to ease their internal staff burden and improve their audience experience.
Approach
Outlining the desired workflow and featureset required from TBA was the first step in omNovia's project management. After gathering initial requirements, omNovia hosted calls with other technology partners to outline a comprehensive solution. By delivering the project in a phased approach, TBA and other partners were able to review the workflow and make adjustments as needed, allowing multiple opportunities for feedback and additional enhancements.
Result
By creating strong partnerships with multiple vendors and continually checking on the needs and expectations of TBA, omNovia was able to provide a robust, tailor-made solution. Increased functionality offered in both live events plus interactive on-demand recordings enhanced the overall learning experience. Additionally, omNovia's StageToWeb offering allowed TBA to supplement their revenue stream by offering live events, online.
The solution for TBA included:
Registration system with custom catalogues, searches and check payment processing.
Reporting on attendee activity and interactions during events.
Start to finish project management from process, training, event moderation and technical support.