The Webinar Promise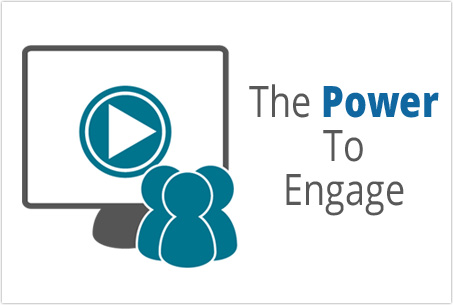 Combine the world wide reach of the web with the strength of your seminar message – and you get a powerful product. Call them webinars (Web + Seminar), web events, online seminars, webcasts, web lectures or virtual events. You'll definitely call them — unbeatable– in generating leads, marketing your content or getting your educational message across.
They hold so much promise. They can reach a targeted audience, live or on-demand. You can use them to expand your message cost-effectively, without anyone having to travel. They are device agnostic, user-friendly, environment-friendly, and especially bottom-line friendly. It's no wonder research shows webinar usage will more than double in the years ahead.
Simply put, webinars are hot. But they can be oh, so cold…
The Webi-Bore Problem
Poor audience engagement tools. Fumbling with media and power points during a presentation. Constantly apologizing for technical mistakes. These are the 3 Webinar Sandmen that lull your audience into dreams of being elsewhere. When you're trying to inspire, persuade or educate people online, we know you can't afford to lose the precious attention you worked so hard to gain.
That's why no other webinar platform offers the flexibility, configurability and ease of use to keep your audience engaged with, and acting on, your message like we do. Each feature was designed to help both moderators and presenters creatively ban the 'webi-bore' Sandmen who thrive in dead air, embarrassing tech glitches and constant apologies.
The omNovia Eyes-Wide-Open Webinar Difference
OmNovia webinar solutions snap viewers to rapt, eyes-wide-open attention. Whatever you can do in front of a live audience, you can do it with an omNovia webinar. And keep doing it, again and again, as you rebroadcast your inspiring, persuasive or educational content as often and as interactively as you'd like.
OmNovia webinars make your audience naturally feel involved and reacting to your content with five revolutionary features:
Recast – The simplest way to perfectly pre-produce your event. Recast viewers can enjoy any multimedia you can dream of. Then they fill out forms, ask questions, chat and interact, all seamlessly. All their input will be recorded so you can respond and retain their interest, dynamically. Your great show keeps on going, long after the presenters go home.
Q&A Manager – Smoothly assign viewer questions to multiple presenters and moderators, no matter how fast those questions fly. Answer those you choose, and get back to others later. You stick to your agenda and stay calmly in control.
Workflows - Organize and deliver all your webinar multimedia seamlessly. With quick-as-a-click application launches, you'll never fumble through technical difficulties again.
HD live video options- Integrate live, recorded or webcam video that will stun your audience with smooth, picture-perfect realism. All without the choppiness or pixel problems that make presenters hide behind the curtain. Now, whatever you can do onstage you can do on screen.
Co-Browser - Interactive live URL's during your events are like reaching through the monitor and sitting right there with the viewer. Help them fill out surveys, download trials, and more. Show them exactly where to sign up for what you want them to do!
You stay in charge. They stay engaged, excited, attentive and asking for more.
The way webinars should be — the omNovia way.
Is omNovia's Webinar Platform Right For You?
No matter what role you play in your organization, omNovia's webinar solutions fit right in with your work efforts.
Marketing Directors: With OmNovia, your webinars…
Let your message shine in all its interactive, exciting, feature-rich qualities, including HD video feeds, multiple presenters, mixed talk, slides, movies, Q&A, polls, surveys, you name it.
Convey the professionalism and expertise you want, with no technical glitches, no embarrassing pauses, no fumbling around. Your organization looks stunning.
Use multiple virtual rooms, to co-brand or put marketing banners in each room exactly as you see fit, and have it stay that way over time. No hassles of constantly setting up.
Get users to react exactly as you want them to, with Co-Browser functionality that leads viewers to engage in your call to action
Build lead after lead and constantly grow your audience, with multiple recasting features that combine live interactivity with evergreen scalability.
Corporate Communicators: With OmNovia, your webinars…
Combine the perfect mix of company image – professional, meaningful, capable – in the most fluid, attractive web package possible.
Enable full and complete collaboration with stakeholders, where all their questions are answered, all their responses are recorded, all their issues are accessible and actionable. Live or recorded, their interactions work and matter.
Make sure your message comes across exactly as you want it to – whether it's an all hands video meeting, new company training, or any directives you want to convey – do so with ease and confidence.
Corporate Trainers: With OmNovia, your webinars…
Make your content feature-rich and accessible, so employees will look forward to learning what you have to teach.
Get your message heard, understood and retained – when the content is media rich and engaging, you don't lose their attention. They keep the information you want them to.
Go beyond the limitations – no more struggling to reach people live and in person, no more budgetary travel headaches, no more "missing out" by not being there live. Instead, your web message is equally engaging and loses nothing by being recorded.
Event Planners: With OmNovia, your webinars…
Provide the most media-rich, function-filled, online events, where the only issue is how engaging your content will be.
Scale with ease, so your events can reach thousands and thousands of viewers, with an audience that keeps on expanding via recorded rebroadcasts.
Lead your industry in attention generating, audience engagement, envy of other company media events.