Webcasts Make Your Message Ring Out Around The World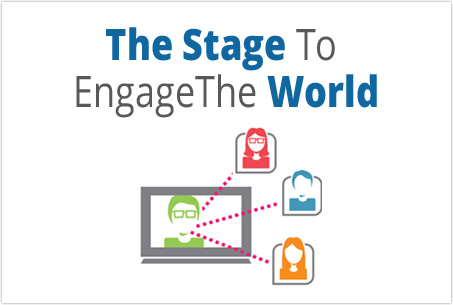 Because webcasts have worldwide reach, they are unparalleled in effectiveness. Savvy companies use them for lead generation, education, training, corporate communications, PR, investor relations, product launches, sales meetings, marketing communication, keynotes addresses, virtual meetings… to inspire, persuade, educate.
Webcasts are trackable, so you get to understand your audience's responses and needs. They are virtual, so they slash travel costs and help the environment. They boost sales and beef up the bottom line. And since they are replayable, you get to repeat your message as often and as widely as you need. Your impact keeps on reverberating.
Will Your Webcast Platform Accidently Sabotage Your Event?
All too often, webcasts fail to hit the right notes due to no fault of your own. Many webcasting platforms are not built to be customizable, flexible or scalable. So often, their multimedia and interactive event elements are paltry at best, or can be terribly glitchy and bring the flow of your event to a screeching halt.
Audiences hate hearing, "hang on, we're experiencing technical difficulties", and end up tuning your message out. Companies recoil in shock at the expense of tying up their IT departments to make the equipment work right. So they end up putting out bland, one note webcasts with no multimedia, no interactivity. And no way to leave their audiences wanting more.
OmNovia Delivers Perfect Webcasts — Every time
OnNovia's Webcast Solutions fine tune your webcast with affordable features that play perfectly with your needs and audience interests.
We offer two ways to ensure flawless events:
Self Service / Self Administered Webcasts: If you're familiar with webcasting, you'll love our self service, self administered webcasting solution once you learn our core features. This option gives you full ability to integrate multi-media, interactive elements, streaming video, audio, slide shows, screen sharing, Q&A, chat, real time surveys, downloadable docs, animation, polls, and more. All are plug and play with tiny learning curves.
Full Hands On Guidance: If you're new to webcasting or omNovia's unique features, our hands on support is like having go-to webcast experts working hand in hand your team. We assign an event team to work closely with you and ensure seamless operation through every aspect of your event – upfront discovery, speaker training, event facilitation and post event rebroadcasting and marketing. On site prep, camera crews, lighting, audio equipment and more – covered.
All our webcast options are affordably priced by number of events and number of people attending. Plus, every webcast is easy to use, and backed by 24/7 online phone support. Your perfect webcasts sounds and looks great to everyone – from your CEO, to your sales teams watching around the globe.
OmNovia Webcast Features Strike The Right Notes
OmNovia webcasts make your audience sing right along to your message. They stay involved and reacting to your content with five revolutionary features:
Recast – Dazzle them with hassle free event recordings that interact like live. Recast viewers enjoy any multimedia you can dream of. Then they fill out forms, ask questions, chat and interact, all seamlessly. All their input will be recorded so you can respond and retain their interest, dynamically. Your great webcasts keeps on echoing, long after the presenters go home.
Q&A Manager – Smoothly assign viewer questions to multiple presenters and moderators, no matter how fast those questions fly. Answer those you choose, and get back to others later. You stick to your agenda and stay calmly in control.
Workflows - Organize and deliver all your webcast multimedia seamlessly. With quick-as-a-click application launches, you'll never fumble through technical difficulties again.
HD live video options- Integrate live, recorded or webcam video that will stun your audience with smooth, picture-perfect realism. All without the choppiness or pixel problems that make presenters hide behind the curtain. Now, whatever you can do onstage you can do on screen.
Co-Browser - Interactive live URL's during your webcasts are like reaching through the monitor and sitting right there with the viewer. Help them fill out surveys, download trials, and more. Show them exactly where to sign up for what you want them to do right inside an interactive browser window!
Full Studio Production Support - Many companies want to use their own studios or production crews to capture and encode important events. Your crew can deploy its own video encoder, using the Flash Media Encoder software, and send the encoded signal directly up to our platform. Up to 2 live streaming signals can be broadcast inside of the fully interactive omNovia platform. It's "plug and play," with no need for additional infrastructure or capital investment. Plus, the system is fully interactive and customizable with all of our core features listed above.
Are omNovia's Webcast Solutions Right For You?
No matter what role you play in your organization, omNovia's Webcast Solutions fit right in with your work efforts.
Event Managers: With OmNovia, your webcasts…
Let you plan, coordinate and pull off far reaching media events that make your company look more professional than any competition out there.
Take away all the hassles of making the technology work, so you can focus on the great content you can put together.
Make it so you never lose your audience with "whoops, sorry for the technical difficulties".
Get your events remembered by viewers and acted upon exactly as you plan.
Corporate Communicators: With OmNovia, your webcasts…
Provide the best possible image for your company – professional, capable, absolutely in-tune with employee needs.
Let you be in full and complete communication with employees. Their questions are heard, acknowledged and responded to. Their issues get acted on and resolved. They feel heard and so do you.
Perfectly convey the message you want. Whether it's an all hands video meeting, training, or any content you want to convey – do so exactly the way you want to.
Resell Partners: With OmNovia, your webcasts…
Impress your clients with exciting liveliness during their next event. With rich media functionality and robust engagement, your next event will truly be one that is remembered.
Convey everything a live meeting can and more – share the experience with a global audience while recording all of their interactions.
Provide a consistent tune about your company that keeps on singing long after the singers go home. Recast it, refine it, rebroadcast it as often as you like.
Reach the forefront of your industry in attention getting, result getting events.