Multilingual Webinar Platform
omNovia offers a Multiple Language Module that allows companies to simultaneously host a single webinar in a variety of languages. For an international audience, instead of spending time and money to hold different online meetings for each language required, omNovia's feature allows you to conduct one single virtual meeting with multilingual channels.
When logging into the event, attendees choose their language of choice. With the help of interpreters for each channel, your attendees can listen to the presentation as well as view the platform and any corresponding chat in their own native language.
To ensure the most natural environment for you audience, omNovia 's platform fully supports right to left (RTL) written Languages such as Arabic and Hebrew. The entire interface is mirrored (including popping windows) for the RTL languages. Furthermore, omNovia supports the 'Floor Audio' notion in compliance with interpretation industry's best practices. Attendees can optionally hear the floor audio at a lower volume in addition to the full-volume interpretation channel. Moderators may remotely update a presenter or an interpreter's channel via the AV Remote Control if necessary.
Below are a few examples of the omNovia interface in other languages. Please note, the languages we currently support: English, Spanish, French, Russian, Japanese, Dutch, Portuguese, Chinese Arabic and Hebrew.
We have a very simple process for incorporating additional languages. If you require a language not listed above, please let us know.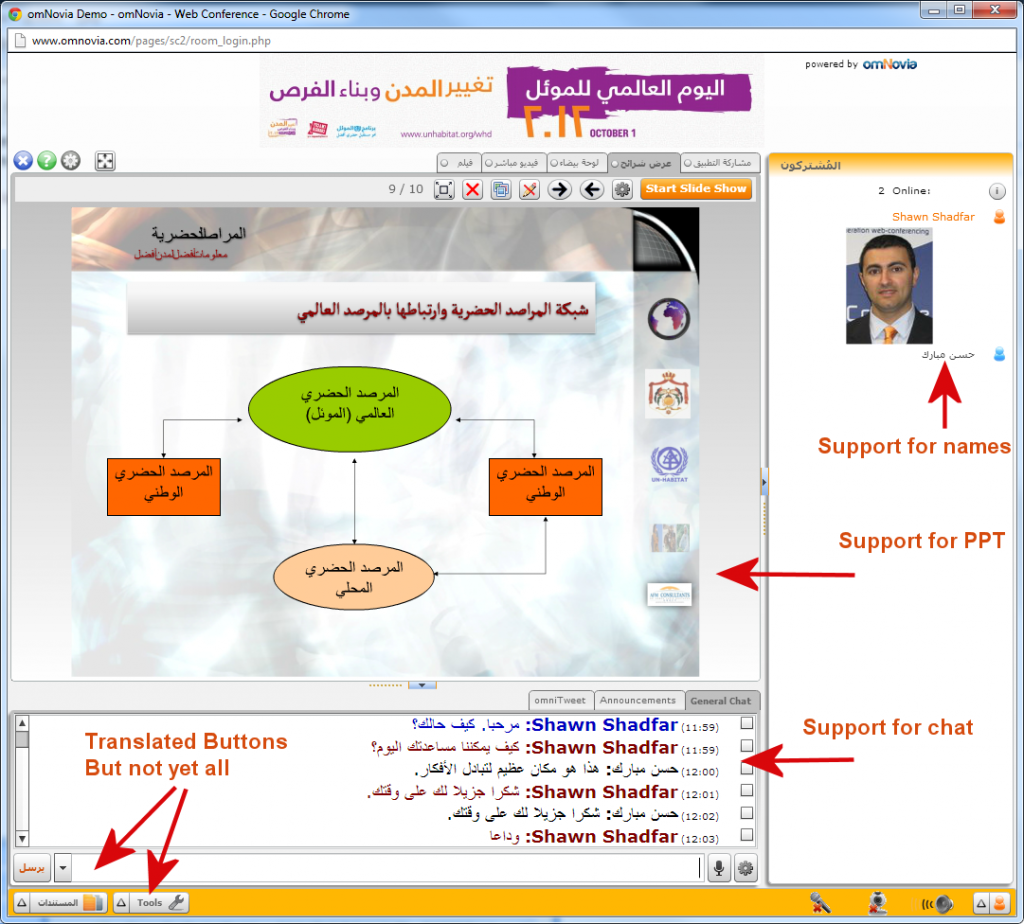 How to Get Started
Multi language channels can be enabled for every omNovia room within hours. If you would like to use this unique feature, please contact our sales department.
Frequently Asked Questions
Is there a limit of the number of supported languages in the conference room?
No. You can have as many language channels as you need.
Is there a limit of the number of supported languages in the conference room?
omNovia does not offer automated translations. Please note we have done a lot of research and found out automated translations still are years from working properly. The current state of the technology might provide a 'cool' demo but will not be actually useful as only up to 80% of words will be accurate and that 20% will kill the usefulness of the tool.
Does the room provide different channels for the visual presentation?
Supporting different channels for the visual presentation is currently in development. Similar to the multi channel voice streaming, this feature will allow companies to show different presentations to different attendees based on the language option they choose.Does the room provide different channels for the visual presentation?
Does omNovia provide simultaneous translators?
omNovia does not provide translators.
How much does it cost to have this option in my room?
Our pricing model is based on the room capacity. Please contact our sales department to receive a quote.