omNovia Webinar Pro:  High Impact Webinars
The omNovia Webinar Pro platform and services takes your webinars to the next level by enabling you to easily create media-rich, interactive and engaging live or recorded webinars. Whether using omNovia's hosted solution on a self-service basis or leveraging our comprehensive webinar services, you will be impressed by the omNovia experience.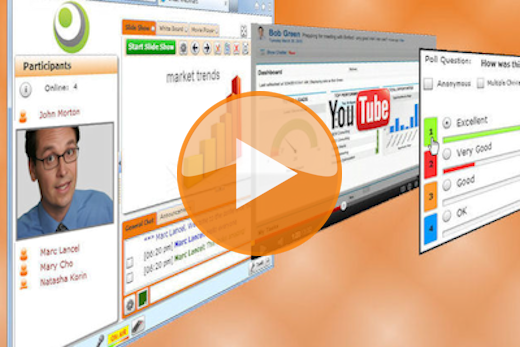 Please click to watch a short video
You create more interactive, more engaging webinars
Your attendees and presenters experience unique ease of use
Our team will help you every step of the way
We customize our webinar services to meet your business needs

Ideal for live online training and marketing webinars, omNovia will transform your simple and often ineffective MS PowerPoint + audio presentations into a powerful communication medium leveraging video, polls, live website access, white-boards, desktop sharing etc. in a branded, reliable and secure environment.
Beyond providing you with the greatest webinar technology, the omNovia team will also redefine your webinar experience by bringing best-practices and all the necessary services so you get the most out of your webinars.
Webinar Examples

Online live training: board meetings, internal and external training, online workshops
Sales and marketing: new product launches, product demonstrations
Automatic webinars: self running yet interactive webinars

Highlighted Features

| | |
| --- | --- |
| | Slide Show Presentation: Microsoft PowerPoint 2003, 2007 and 2010 with full support for all animations and transitions. Annotation tools let presenters add notes or use a laser pointer. |
| | Instant Poll: Polling and survey facility with multiple-choice questions, real-time results sharing and full reporting. |
| | Event Registration: online event registration system with automated reminders, follow-up emails and event analytics (reporting). |
| | Recast: omNovia's unique interactive replay technology allows you to record and replay an event exactly the way it happened live. |
| | Fully Customizable Interface: Your virtual room can be easily branded with your logo, colors and banners including sponsors logo. |
| | Mobile Support: A mobile app for Android and Apple devices such as iPhone or iPad enables viewers on the go to participate at your events. |
| | Closed Captioning: The Closed Captioning tool and API enable TV-style captioning for better communication and 508-compliance. This tool is compatible with industry standards. |
| | Credit Card Integration: Optional module that allows you to charge your online attendees at the time of the registration. |
| | Chat and Q&A Manager: Online attendees can type questions or comments. |
| | omniTweet: Updates a given Twitter search feed every 10 seconds and also allows online participants to tweet within the virtual room. |
| | World Map: Shows the location of all online participants on a map. |
| | Documents Sharing: Online attendees may download documents (PDFs, MS Word…) into their computers or access specific web sites of your choice. |

Go here to see an extensive list of all of omNovia's unique features.

Event Services

At omNovia we know it takes more than great technology to produce successful web events, which is why we offer OPTiMA, omNovia's professional services webcasting solution. Our comprehensive portfolio of event services can help you prepare, organize, and execute events that exceed expectations.

Everyone's event needs are different; therefore we've broken down OPTiMA into the following categories:

OPTiMA Support - To reduce the organizers burden and allow them to focus on the content of the event, we offer omNovia Elite Support either on-site for StageToWeb or in-room for webinars. This live agent assists presenters, moderators and attendees with troubleshooting audio/video issues, performing room actions and advising on functionality, among other things.

OPTiMA PM - Our experienced project managers guide you through crucial steps of your webcasting project. They work with all parties in and outside of your organization, handling every detail from the initial discovery meeting to Audio-Visual (A/V) team management, post-event follow-up, review and more.

OPTiMA Training - Although the omNovia platform is intuitive, our experts can provide organized training sessions for your moderators, presenters, or anyone from your team, so they can quickly leverage more interactive tools with ease.

OPTiMA Production - The making of any event requires lots of hands ensuring many different moving parts all work according to plan. When you step into the virtual event world, another challenge is added – keeping your online audience engaged. omNovia experts can completely orchestrate your webcasts and webinars, provide coaching, event moderation and content management services to ensure you utilize our rich-media tools, creating a fully interactive environment between presenters and attendees. This results in smooth and successful events with a superior user experience and better tangible results

Go here to learn more about omNovia's OPTiMA services

Our customers will tell you first-hand how their attendees feel about omNovia, how their guest presenters easily get up-to-speed and feel comfortable presenting with omNovia and how helpful and responsive our team has been every step of the way.
omNovia Webinar Pro is a configurable, multi-lingual and flexible platform that leverages omNovia's worldwide cloud-based environment.
Explore our extensive list of features such as Recast (interactive replay of online events), or our comprehensive integration APIs or yet the depth of our OPTiMA professional services.


To contact our sales department, please submit the form below or call us at 1-888-849-9618 or +1-281-500-4065.