High Impact Event Webcasting
omNovia's StageToWeb live event webcasting solution broadcasts HD (high definition) video and audio in a customizable and secure web-based environment. Expand your audience to include online participants while creating an engaging and interactive experience for both on-site and remote attendees.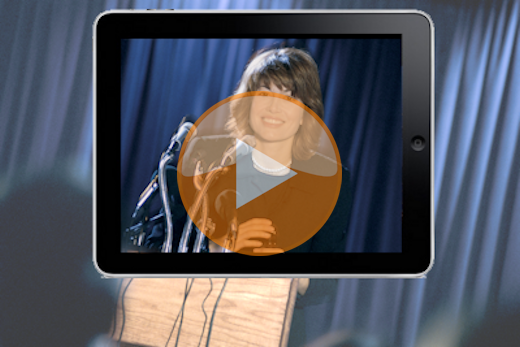 Please click to watch a short video
omNovia partners with your selected AV company or event venue to take your event beyond the ballroom and into the PC or mobile devices of your global audience at an affordable fee.
Increase your reach and make your events available to those not able to attend
Boost external (product & brand) and internal (employee & investors) communications
Brand your webcast with your logo, colors, and banners
Enhance participant engagement with real-time interactive features
Advanced features such as slide show supporting all animations and hyperlinks, integrated eLearning tools, instant polls and surveys, twitter integration, combined with HD video and audio broadcast ensure your online attendees will not only watch but also participate and actually experience your event.
Webcast Examples

Corporate communication: board meetings, employee trainings, press releases
Academic events: symposiums, leadership meetings, alumni relations
Sales and marketing: new product launches, product demonstrations
Investor relationship: earnings announcements, shareholders' meetings
Industry events: trade shows, franchise meetings, keynote speakers
Government presentations and speeches: one or two-way presentations, federal and local government mass communication.

Highlighted Features

| | |
| --- | --- |
| | HD (High Definition) Video and Audio: Supports 30 fps (frames per second) in H.264 format with the ability to set video width and height. Attendees can choose between two HD and SD streams and expand image to full screen. |
| | Slide Show Presentation: Microsoft PowerPoint 2003, 2007 and 2010 with full support for all animations and transitions. Annotation tools let presenters add notes or use a laser pointer. |
| | Instant Poll: Polling and survey facility with multiple-choice questions, real-time results sharing and full reporting. |
| | Event Registration: online event registration system with automated reminders, follow-up emails and event analytics (reporting). |
| | Recast: omNovia's unique interactive replay technology allows you to record and replay an event exactly the way it happened live. |
| | Fully Customizable Interface: Your virtual room can be easily branded with your logo, colors and banners including sponsors logo. |
| | Mobile Support: A mobile app for Android and Apple devices such as iPhone or iPad enables viewers on the go to participate at your events. |
| | Closed Captioning: The Closed Captioning tool and API enable TV-style captioning for better communication and 508-compliance. This tool is compatible with industry standards. |
| | Credit Card Integration: Optional module that allows you to charge your online attendees at the time of the registration. |
| | Chat and Q&A Manager: Online attendees can type questions or comments. |
| | omniTweet: Updates a given Twitter search feed every 10 seconds and also allows online participants to tweet within the virtual room. |
| | World Map: Shows the location of all online participants on a map. |
| | Documents Sharing: Online attendees may download documents (PDFs, MS Word…) into their computers or access specific web sites of your choice. |

Go here to see an extensive list of all of omNovia's unique features.

Event Services

At omNovia we know it takes more than great technology to produce successful web events, which is why we offer OPTiMA, omNovia's professional services webcasting solution. Our comprehensive portfolio of event services can help you prepare, organize, and execute events that exceed expectations.

Everyone's event needs are different; therefore we've broken down OPTiMA into the following categories:

OPTiMA Support - To reduce the organizers burden and allow them to focus on the content of the event, we offer omNovia Elite Support either on-site for StageToWeb or in-room for webinars. This live agent assists presenters, moderators and attendees with troubleshooting audio/video issues, performing room actions and advising on functionality, among other things.

OPTiMA PM - Our experienced project managers guide you through crucial steps of your webcasting project. They work with all parties in and outside of your organization, handling every detail from the initial discovery meeting to Audio-Visual (A/V) team management, post-event follow-up, review and more.

OPTiMA Training - Although the omNovia platform is intuitive, our experts can provide organized training sessions for your moderators, presenters, or anyone from your team, so they can quickly leverage more interactive tools with ease.

OPTiMA Production - The making of any event requires lots of hands ensuring many different moving parts all work according to plan. When you step into the virtual event world, another challenge is added – keeping your online audience engaged. omNovia experts can completely orchestrate your webcasts and webinars, provide coaching, event moderation and content management services to ensure you utilize our rich-media tools, creating a fully interactive environment between presenters and attendees. This results in smooth and successful events with a superior user experience and better tangible results

Go here to learn more about omNovia's OPTiMA services

On-Demand Webcasting
Engage your global audience with interactive on-demand webcasts. Post them to your website or intranet and create on-going publicity for your organization. StageToWeb™ requires no software to download. Your attendees can access your organization's webcasts simply by clicking on a link anywhere, anytime.
Please click here to learn about OPTiMA, omNovia's professional webcasting services.


To contact our sales department, please submit the form below or call us at 1-888-849-9618 or +1-281-500-4065.