omNovia Web Conference for Mobile – iOS and Android
omNovia Web Conference is now available on both Android and iOS (iPhone and iPad) devices. The new omNovia Web Conference Mobile brings high quality web conferencing including HD video to those on the move. The omNovia Web Conference Mobile App is available in the Apple App Store, Google Play, and Amazon App Store.


The omNovia Web Conference Mobile version 3.3 has been designed for attendees and supports all major features as listed below: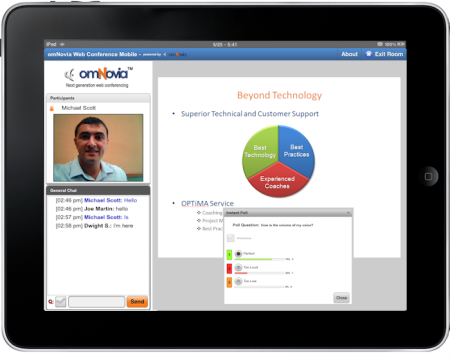 Slide Show with annotations
Application Sharing Viewer
Whiteboard
Movie Player, including YouTube player
Voice
HD Live Video (Android only at this time)
Chat (with area and font resize) and Announcements
Instant Poll
eCurtain
Cobrowser and web page popups
Documents folder
Notes module
Support for single sign on
Collapsible chat and participants panel
End marketing page
Presenters and moderators, please read this Knowledge Base article for more information.
Please note: Although the omNovia Web Conference Mobile app works on smart phones, it has been optimized for iPad and Android tablets.