Ensuring Successful Webcasts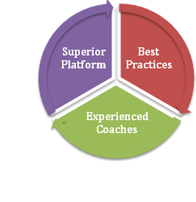 At omNovia we know it takes more than great technology to produce successful web events, which is why we offer OPTiMA, omNovia's professional services webcasting solution. Our comprehensive portfolio of event services can help you prepare, organize, and execute events that exceed expectations.
The omNovia OPTiMA Team can be an extension to your internal team helping accomplish these key objectives:
Increased attendance
Improved conversion rates
More engaging online training sessions with interactive tools
Improved online corporate communication
Delivery of high impact webcast with HD video and audio
Everyone's event needs are different; therefore we've broken down OPTiMA into the following categories.
OPTiMA Support – To reduce the organizers burden and allow them to focus on the content of the event, we offer omNovia Elite Support either on-site for StageToWeb or in-room for webinars. This live agent assists presenters, moderators and attendees with troubleshooting audio/video issues, performing room actions and advising on functionality, among other things.
OPTiMA PM – Our experienced project managers guide you through crucial steps of your webcasting project. They work with all parties in and outside of your organization, handling every detail from the initial discovery meeting to Audio-Visual (A/V) team management, post-event follow-up, review and more.
OPTiMA Training – Although the omNovia platform is intuitive, our experts can provide organized training sessions for your moderators, presenters, or anyone from your team, so they can quickly leverage more interactive tools with ease.
OPTiMA Production – The making of any event requires lots of hands ensuring many different moving parts all work according to plan. When you step into the virtual event world, another challenge is added – keeping your online audience engaged. omNovia experts can completely orchestrate your webcasts and webinars, provide coaching, event moderation and content management services to ensure you utilize our rich-media tools, creating a fully interactive environment between presenters and attendees. This results in smooth and successful events with a superior user experience and better tangible results.
Contact our sales team for an event analysis in order to determine which OPTiMA service(s) would best suit your specific needs.